With Portugal officially on the green list for travel we thought now is the perfect time to give you a reason to visit Lisbon, the beautiful capital of Portugal. Whenever anybody suggests Lisbon as a holiday destination, not many people jump at the offer. And as a Muslim traveller it is probably the last place to visit on your list. Although everywhere is off limits for now it's good to plan for when we can eventually travel again!
The capital of Portugal offers brilliant tourist attractions, filled with history and on top of all that culture, they also cater to Muslims who are looking for halal food and places to pray. Once you visit the city once, it's hard not to fall in love and yearn to go back. 
Lisbon is home to modern art museums, entertainment venues, sleepy storefronts and historic monuments. your trip will definitely be the most unforgettable trip ever! Overall, Portugal is a very Muslim friendly holiday destination that can cater to many of your needs and expectations as a Muslim traveller.
Here are a few reasons you should visit Muslim-friendly Lisbon:
There are a great many reasons as to why you should get up and go to Lisbon, rather than repeating the last 5 years of vacations and going to Turkey. From museums to cobbled streets, the city is a beautiful place to visit and a great cultural hub. 
You can take a trip around Lisbon on a tram which passes through the beautiful picturesque streets of the 1870's and whilst enjoying the ride be sure to hop off and visit the secret garden of Edward VII. There are also many halal restaurants in the city, meaning you will be able to take your pick, rather than restricting yourself to vegetarian options!
Did you know there is a deep-rooted Islamic history in the city? Muslim Moors conquered the city in 711, with numerous historical and architectural memorials.
Lucky for you, Portugal has great weather all year round! The peak travel times are in June to August but with Covid practically demolishing the thought of any kind of travel in the last year anytime you go will be great. 
Things to do in Lisbon:
Visit the Lisbon Cathedral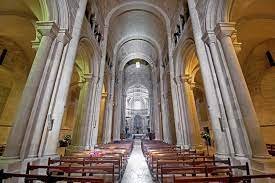 The Lisbon Cathedral was constructed in the 12th century. On the outside, it looks like a fort more than any type of religious building. It was built on the top of an old ruined mosque. This confirmed the invasion of Portugal by the Catholics.
Lisbon Aquarium (Oceanario de Lisboa)
The Oceanario de Lisboa is thought to be the largest aquarium in the world. It is a family space, great for the kids! Sea otters, penguins, jellyfish and most of the best underwater creatures are here. There is even the opportunity to have an amazing date night with a shark. It is definitely worth the visit!
Central Mosque of Lisbon 
For the Portuguese Islamic community, this is the central and most prominent mosque in the city. In 1985, the mosque was opened and allowed the public access to the mosque. The mosque is filled with beautiful designs and architecture, with a dome on the exterior. 
The National Museum of Ancient Art (Art Museu Nacional de Arte Antiga)
This museum is the most significant cultural attraction there is in Lisbon. That is why it is a must-visit for every tourist in Lisbon. This museum is the home to the largest Portuguese paintings which date back all the way to the 15th century. It also houses artwork from other parts of Europe and Africa. 
Join a free walking tour
I love to walk. And I love to walk with beautiful sites around me. And what is even better, it's free! You will be able to explore the city on foot and see everything it has to offer. When the tour ends you can wander through the city, getting lost and trying to find your way back home.
If you hadn't already noticed, Lisbon is an amazing holiday destination for Muslims looking for a Muslim-friendly experience. Great food, weather and sites is all enough to get me to want to book my ticket now!