To the mothers who have hibernated because the harsh cold of winter was too much to bare. To the mothers with new babies who've been navigating days punctuated by feeding and sleep schedules. To the mothers who've felt sick, low on energy, exhausted from sleepless nights or the worry that comes from nursing poorly children back to health. To the mothers who've been homemaking and tending continuously to their families needs. To the single mums that feel alone and the working mums who are desperately trying to balance the tipping scales. The winter is gradually slipping away, shorter days are now giving way to the light, change is in the air that we breathe, and as the blossom tentatively begins to bloom, we are reminded, we too, have permission to grow.
This year Ramadan arrives perfectly in tune with this seasonal shift, reminding us of the deep need to reawaken our souls, to rise up from the trenches, to take a pause and bring renewed life into our spiritual hearts. It's time to meet Ramadan exactly where we are, no matter what our state, and open ourselves with an eagerness to receive the gifts this blessed month can bring. 
For mothers, Ramadan can be a conflicting time. We long for the pause from our daily routine, we wish to be lost in night time Ibadah, to engage in long reflective Dua, to re-acquaint ourselves with the Quran. We hope to stand uninterrupted in salah, or spend more time at the masjid, like we did long before the little people in our lives had other ideas. But the truth is, Ramadan is a time that can leave us feeling the depths of that yearning to be close to Allah, without the means of knowing how we can possibly do it. Some get lost in decorating the home, or creating activities for the children, worrying if we've done too much, or not enough. Others spend too long in the kitchen and not long enough getting the rest that we so desperately need.  
A mother once said that Ramadan for her was 'the month of isolation' with men spending extended periods in the masjid, mums bound to the home feeding babies, reading Ramadan stories to tired-eyed toddlers, or supporting pre-teens with their efforts to fast for the first time. We are reminded every year that our mothering is Ibadah in itself, that Allah is merciful and generous and it is our efforts and intentions that count. We are told that if we feed a fasting person we reap the rewards of their fast and that Allah sees us in the dark of the night when our Tahajjud is disrupted because a child needs to be settled back to sleep. We know all of this and yet still we yearn for more connection, for a heightened sense of worship, something that will lift us from the throws of motherhood and into a higher state of being. 
For the mothers who want to strive that  little bit more this year, who don't want to burn out or feel overwhelmed or for the mothers who feel that their Ramadan always falls short, here are some simple tangible things you can try. 
These suggestions are short, digestible ways to help you find meaningful connection and a closeness to Allah, but ultimately Ramadan is about striving to do just a little more than you were before, whatever that means for you personally. This should not be a time to feel inadequate or under pressure and this guide is simply a reference point, at place to start if you don't know where to begin. Take from it what will uplift you and leave what doesn't. 
Ramadan Ideas for Busy Mums
Omar Suleiman – Yaqeen Institute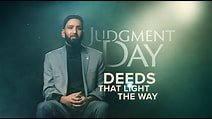 Every year Omar Suleiman has a Ramadan series, they are incredibly powerful and extremely engaging (and short) with a new episode each day they offer the opportunity to listen to something beneficial but build a consistent daily habit of easy ibadah. 
This year the series will focus on judgement day, visualising every moment of the Last Day, and then making it applicable to our daily lives inshaAllah. In every station of that day, there is a deed that lights the way and we get to learn about them all during Ramadan. You can sign up to watch the trailer here. 
Quran 30 for 30 – season 3 
The Yaqeen Institute helps you reconnect with the inspiring words of the Quran one Juz a day via livestream – you can sign up here.
Quranic Ocean – Samia Mubarak 
Samia has the most inspiring Instagram page that deep dives into the gems from the Quran. Her famous Jummuah sessions 'Quran & Coffee' are not to be missed and she often has the most beautiful Quranic reflections daily during Ramadan. You can link to her page here.
The Heart of the Quran 
If you find the idea of reading the whole Quran an unrealistic goal or perhaps a bit daunting, then why not focus on one section and deep dive. Surah Yasin is known as the heart of the Quran and there is an excellent book by Asim Khan available here.
Way to the Quran
If you are looking for a good read to truly uplift you and remind you of the beauty and intricacies of the holy Quran, the incredible book 'Way to the Quran' by Khurram Murad is the one!
Nine months spent in the womb of your mother have transformed a drop of water into 'you' – hearing, seeing and thinking. Can you imagine what a lifetime spent with the Qur'ān – seeking, hearing, seeing, thinking, striving – can do for you?"
― Khurram Murad, Way to the Quran
You can get a copy of this little gem of a book here. 
Muslim Mamas – Connecting and empowering Muslim Mothers 
Muslim Mamas are determined to connect with you this Ramadan like never before, we are preparing lots of inspiring events, group sessions and live talks that will allow you to feel a sense of community and togetherness. We hope to have dhikr / Soul Sessions and much more in our exclusive VIP Lounge so make sure you are signed up here!
We will be taking you around the world on our Instagram page to get a taste of how Muslim Mama's in different countries spend their days during Ramadan, as well as live sessions and halaqa's specially curated with busy mums in mind. Make sure you are following our page here.
As always we will be supporting our Mama's with the highs and lows of the blessed month and anything in between through our beautiful community in our Facebook Group – if you aren't already a member, be sure to join us here.
Most importantly, remember that we spend so much time stepping into our children's world throughout the year, taking them to activities, reading to them, playing with them and guiding them as best as we can. Ramadan is a time when their lives can be enriched by stepping into our space. So take the children to masjid, let them be in the presence of other Muslims, let them fall asleep on your prayer mat whilst you pray Taraweeh. Don't worry if they get bored whilst you listen to a Halaqah or if they stay out later than usual as you break your fast in the company of friends or family. They will remember Ramadan for the clattering of dishes in the early hours as you eat Suhoor, from hearing the sweet sounds of Quran and Dhikr fall from your lips like a medicine to your heart. They will remember late nights, extra treats and that twinkle in their mama's eye as she makes Dua, they will remember how Ramadan made them feel. 
Now is a time to turn away from unwanted distractions and reduce the noise (except the noise of the kids, as you can't really reduce that!) Settle yourself in the knowledge that this month will bring you the best of what you need with or without the décor, the special journal or the 'Ramadan goals!' Meet Ramadan where you are, fall into it if you must, just trust that if Allah has allowed you to reach it, then He will allow you benefit from its riches and taste its sweetness, no matter how busy you are.